Arielle Recommends: Do You Know About The Bond?
I've been reading a new book that is shifting my understanding of WHO we are as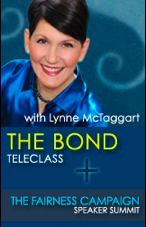 human beings and the amazing interconnectedness between all of us. The book is by my friend, Lynne McTaggart and it's called THE BOND: Connecting Through the Space Between Us.
THE BOND shows that a desire to help others, even at personal cost, is so necessary to us that we experience it as one of our chief pleasurable activities, as essential and pleasurable as eating and having sex!!
There is even an "it's not fair" spot in the human brain, so that people are less interested in making money for themselves than in rectifying financial inequality.
This belief — that the essential impulse of human beings and all of life is a will to connect discloses that we are not "individuals" in any sense of the term:
Consider these amazing statments:
· Sub-atomically, there is no such thing as an individual thing.
· Our bodies are created through so many complex interactions with its environment that they cannot be considered to exist independently.
· One of our deepest needs is to agree with each other, which manifests in a constant and automatic impulse to synchronize, physically, psychologically and emotionally.
· Emotion, always considered wholly individual, is like a virus, transferring from person to person in an endless and unconscious circle of contagion.
· One tiny act of kindness — a bit of change left in a Coke machine — can cause a wave of generosity throughout a vast corporation and an entire community.
· People who fire together wire together; whenever a group works together for a common goal, the brains of all parties begin to get on the same wavelength — strengthening the bond within the group.
· Fairness is a stronger phenomenon than unfairness; all it requires is a small group of individuals committed to strong reciprocity to "invade" a population of self-interested individuals and create a fairer society.
Lynne has put together an amazing (and free) teleseminar series to discuss this in much more depth. Her experts include Marianne Williamson, Jack Canfield, Steven Covey, Michael Beckwith, other thought leaders to help shape a new blueprint for change, for a better, fairer world. (I will be doing a special hour during this event on relationships and fairness along with Gay and Katie Hendricks.)
Through "The Fairness Campaign Summit," you will have the chance to explore with these speakers, experiencing their insights practices, techniques and tactics. They will be showing you how to apply this important information to activate in your life RIGHT NOW…
Lynne — and all her special guests — want you to join them ABSOLUTELY F*R*E*E* for this series of classes that is setting itself the ambition of nothing less than a new and fairer world.
They all believe that WE have a unique and important role to play in the major changes that are taking place right now on our planet and in human evolution.
Join them for this very special NO COST 21-day event where you will go deep into the exploration of the space that creates YOUR bond… to your life, love, abundance, accomplishment and more.
Here is all you have to do…
1) Go to THIS PAGE to register for this f-r-e-e event: The Bond
2) Purchase Lynne's book The Bond as a study reference and offer your receipt in the registration process OR simply register for fr-ee (book purchasers have a chance to WIN an iPad 2 — and the odds of winning are awesome!).
3) Watch for the email from support@nullmcleanmasterworks.com for your dial in info, webcast links and your replay links.
Then enjoy, grow and evolve!
There are only 1000 spaces for callers so register now to lock in your space!
My new book Wabi Sabi Love is now available!  Finding your Soulmate is just the beginning.  Read how successful couples keep the soulmate fire burning.  Receive a priceless bonus bundle of advanced love attraction resources and techniques when you order your copy right here:   Wabi Sabi Love
https://www.arielleford.com/wp-content/uploads/af-logo.svg
0
0
Arielle Ford
https://www.arielleford.com/wp-content/uploads/af-logo.svg
Arielle Ford
2011-07-19 19:30:25
2012-04-07 21:18:38
Arielle Recommends: Do You Know About The Bond?