Balm For A Grieving Soul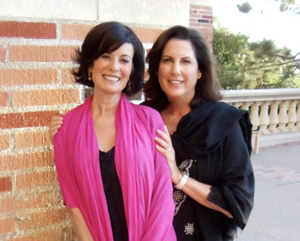 It's now been nearly four months since my sister Debbie made her transition….and the reality that she isn't "here" is beginning to sink in.  Although my intellect understands that she is still here in spirit and that we never really die, it doesn't make a difference to the fact that I miss her like crazy.
I have been doing everything I can think of to heal my body, mind, soul and heart….and in that process I haven't had any energy or bandwidth to support anyone else.
Between my insanely busy work schedule, coupled with limited energy, I find myself powering through my days and heading for the couch at 6pm where I stay for the rest of the night.
But, the other day I started thinking about Debbie's friends…she had a lot of very close friends. A ton.
And most of them don't really know each other.
I realized that they are all going through their own grieving process and may not have anyone to share it with.
With that in mind, I had this idea……why not create a gathering (via the web) as a way to share the process and the healing?
I asked my friend and world-renowned grief expert (and therapist), Dr. Ken Druck, if he would participate and he was a big YES!
So, last week I hosted "Missing Debbie: A Healing Call."  Ken shared his years of experience and amazing wisdom with us on the grieving process.  This call was so deeply healing that I couldn't resist sharing it with all of you.
You can listen to the call here:
Streaming: http://www.audioacrobat.com/play/Wqw3G9Vj

Downloadable:  http://tfi.audioacrobat.com/download/missing_debbie.mp3
Also, Ken led us through some group work that was not recorded. If you want to do what we did on the call, here are the questions to ask yourself:
Reflect on how you knew the person you are grieving, the impact they had on your life, and what you miss most about them.
Let yourself see one thing that you could do that in some way that might lighten your heart. What is a way you support yourself? What kindness could you show yourself? What could you say no to or yes to? It could be anything. What do you believe would help you on your grief journey?
From what you came up with, identify the action step you're willing to take in the spirit of taking better care of yourself. What concrete action are willing to take to affirm your commitment to your own sense of well-being?
If you are touched by Ken's wisdom and his contribution to your grief journey, if you feel so moved, we encourage you to make a donation to his non-profit which is currently raising funds to support grieving families. To support this important work, visit http://www.jennadruckcenter.org
You can leave a comment by clicking here.