My Addiction: Rings, Dings and Pings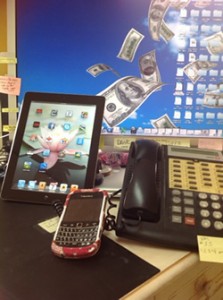 Dear Wabi Sabi Artisans,
In the past sixty seconds, as I sit at my desk, I have heard the crashing of the ocean waves, birds chirping, the dog across the street barking, a car passing by and a multitude of electronic rings, dings and pings that alert me to incoming phone calls (both landline and cell phone), skype chats, text messages, emails, and Facebook IM's.
Each of these sounds, from my myriad electronic gear, has its own unique tone and elicits a different physiological response.
I smile when I hear the ding of the text.
I cringe when my cell phone rings (I have a blinged-out Blackberry and it hurts my ear to talk on the phone but it makes it easier to find my phone when it's deep in my handbag…go figure.)
I sigh when my landline rings because these days it's generally a computer- generated robo call or a telemarketer…
And, depending on my stress level, I can be happy or annoyed when the emails land…..
I'm no scientist but I do know that this just can't be good for my nervous system.  Like Pavlov's dog, I am now trained to respond to all of these sounds.
The simple solution is to turn them all off (which I do by 8pm most nights when they get placed on the kitchen counter to be re-charged) but sometimes, when I get up in the middle of the night for a glass of water, I just can't resist taking a peek to see what might have come in.  Will it be good news or bad?
I am in serious need of a tech detox….. I think I will start with a 24 hour one.  This Sunday.  One full day.  No phone. No Email. No Internet. No rings, dings or pings.
I'll let you know what happens.
If you have any ideas or solutions, please post them below.
Thanks,
Arielle
You can leave a comment by clicking here.