Wabi Sabi Aging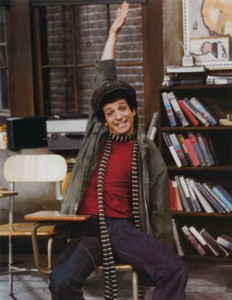 Recently I heard that Horshack died. He was only 63.
No, I never knew him personally, he was an actor named Ron Palillo who was best known for playing a nerdy guy on the TV show Welcome Back Kotter that I used to watch in the 1970's.
63….wow that's young.
He wasn't much older than me……
How in the world did I get to be an age where nearly every day I read about someone dying and my first thought is,
"Oh my, they were too young to be dead?"
25 years ago if you had asked me to make a list about what "old" people talk about it would have looked like this:
1) their aches, pains and general health conditions
2) who was dead or about to die
3) money and the rising cost of everything
4) the way things "used to be."
If you woke me up in the middle of the night and asked me "how old are you?" my immediate response would probably be, "I'm 36."
And, therein lies the disconnect.
 I am 59 ½. I added the "half" recently because I found out that
a) this is my exact age and
b) I can now take money out of my IRA without any penalties.
I am on the cusp of being "old." And, I don't know how to "hold" this.
Or be with it.
Or wrap my head around it.
How can I be "old?"
I don't feel old, I don't think I look old,
I don't want to be old!
Last night I was talking to my friend Nancy who is 90 (and ¼). Yes, Nancy is old. And yet she's not. Not in the way other 90 year olds are old. She still works ( she reaches meditation in her home). She still travels (just got back from 5 weeks in Hawaii) She still hikes up and down the hills in her home everyday. Her biggest complaint is that the DMV won't renew her drivers license. (long story, I think they are agist profilers)
Nancy is definitely my role model for living a long, relatively healthy life (in spite of several surgeries and bouts with cancer she always bounces back). Observing her closely for more than 20 years, its clear to me that her positive attitude, endless curiosity, meditation practice and deliberately healthy lifestyle are her formula for success.
So, when I am talking to Nancy, I am aware that I am not old yet.
But I'm close, very, very close.
For months now I have been thinking about this. You might even say I have become obsessed with trying to figure out how to come to terms with aging.
I want to figure out a win/win solution here.
How do I age gracefully and still be active, have fun, look good, feel good, be productive, and not be in denial?
What is the wabi sabi of aging?
Your comments are needed and most welcome.
You can leave a comment by clicking here.