Wabi Sabi Close to Home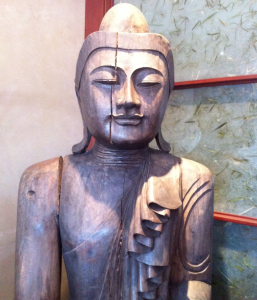 This large wooden Buddha lives at one of our favorite restaurants in San Diego, Isabel's Cantina (http://www.isabelscantina.com/isabel-cantina.php). I have sat next to this Buddha literally hundreds of times over the past 10 years, always admiring the serene smile of the Buddha's face.
While having breakfast there this morning, I suddenly became aware of the long vertical Wabi Sabi cracks on the Buddha. I know the cracks have always been there, but today I feel like I really saw them for the first time.
I don't know what caused the cracks, but for me the cracks make this Buddha more ancient and more beautiful. Who or what in your life can you choose to find more beautiful, cracks and all?
You can leave a comment by clicking here.