The Wabi Sabi of Stress
For the past several months my life has gotten progressively more stressful as I geared up to launch the Art of Love series.
There were so many things to do that I was constantly waking up in the middle of the night to write down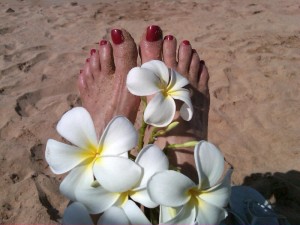 things I still needed to accomplish.
Fortunately the Art of Love has come together brilliantly and there are more than 60,000 participants all over the world enjoying the expertise of Deepak Chopra, Harville Hendrix, Marianne Williamson, John Gray and more.
Here's a confession: the payoff of the stress is the adrenalin rush that often comes with it. There is an excitement factor that makes me feel very alive.
It also provides an excuse for skipping workouts, not eating right and choosing to not take the time to stay centered and calm. I am aware that I am "wigged out," and yet I pretend that "it can't be helped."
We went in Maui last week for the Awesomeness Fest – a gathering of global, conscious entrepreneurs and while I was thrilled to be invited as a speaker, I was also nervous about a new talk I had prepared. I arrived totally exhausted and on the verge of getting sick.
Part of me was trying hard to "power through" the tiredness but it wasn't working. So…. I finally asked myself "What would Wabi Sabi ask me to do?"
As I was lying under my umbrella on the beach, I realized the only answer to allow myself to be as profoundly tired as I was….to just surrender completely into the depth of fatigue and let it be a beautiful experience.
As I sank further into my chair, I was able to just "be" tired and I let my mind and body go. Soon I felt subtle peaceful waves flow through me and I took a much-needed nap.
About 3 hours later a funny thing happened…I noticed that I felt great! My energy level was coming back and I no longer felt like I was on the verge of getting sick.
That afternoon the AwesomenessFest creator, Vishen Lakhiani, spoke about "living in the flow" and the steps to developing "Blisscipline," which is my new favorite word.
Now that I can remember how great it feels to not be stressed out, I am making a new commitment to to do all the things I know are good for me.
I look forward to taking time to workout daily, doing my daily HeartMath heart-lockins, taking breaks during the workday, scheduling more fun and pleasure, and making a conscious effort to remember that while I can't control what happens everyday, I can control how I react.
How are you handling stress?  Is there a payoff you aren't aware of?  Check in and choose your reaction when your life overwhelms.  Find the Wabi Sabi secret and slow down to savor the experience.
You can leave a comment by clicking here.