71 Year Old Daughter Praises Parents Decade's Long Marriage
Brian and I continue to build our Big Love honoring the Wabi Sabi in one another and in our life together and I am uber inspired by today's story:
Huynh Van Lac, 110, and Nguyen Thi Lanh, 106, in Dong Hung Thuan Ward in Ho Chi Minh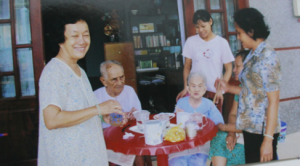 City's District 2, have been certificated by Guiness Vietnam Records as the country's oldest couple.
They have four children and, despite their advanced age, are still sound in body and mind.
"They love each other dearly. At her age, mom seems to be going through a second childhood, enjoying being indulged by her grandchildren, being fed and told stories by them. And yet, whenever dad falls ill, she tells us to shift all the attention to him," said Huynh Thi Hoa, the couple's 71-year-old daughter.
When we visited their house, the old lady was reciting a poem and telling some old stories to the kids. She told us that when she married Mr. Lac, her wedding took all the villagers by surprise.
"Why did such a beautiful girl like her want to marry a poor, uncouth man with a coal-black skin like him?", she recalled the neighbors' whispers and comments about her marriage.
"He was 28 at that time and didn't pay attention to any girls in the village. He just worked hard to support his mother and younger siblings. And he was quite a Jack of all trade – he seemed able to do everything, from gardening, farming, and fishing to making up prescriptions. He also knew a little French and Chinese," her face radiated with warmth and happiness at the memory of the old days.
"I accepted his proposal because I found him a good-natured and hard-working man," she said.
Lying on a bed nearby, Mr. Lac chipped in, "She had to put up with a lot of hardships when she married me. After our marriage, we both had to work very hard in the field during the day and at night she had to take on some sewing work to make some extra money for our kids. God must have recognized all our hard work and rewards us with a long life."
For the last two months, his hands have become so shaky that he can no longer hold the spoon to get the food and put it into his mouth. Meanwhile, her legs are so weak that they can no longer keep her on her feet. They have also lost their eyesight.
And yet, their love for each other does seem unaffected by the ravages of time. Every morning, when the old man wakes up, he always asks about her first, "Where are you? Have you eaten anything yet?" while her first question to the children always is: "Is he up yet? Take good care of him today and buy his favorite food for him. Anything is fine with me."  (Story originally posted http://www.tuoitrenews.vn)
For another inspiring moment, check out this moving video tribute:  Click Here
You can leave a comment by clicking here.