In Praise of Imperfection
Somewhere along the line, most of us were indoctrinated into the myth of "perfection."  We think that we should look, behave and acquire perfect lives on every level.
 Of course we know, logically, that this is impossible. And yet, in our striving for perfection, we are left dissatisfied and unfulfilled by our bodies, our mates, our jobs, and our station in life.
Early this morning we were watching one of our favorite TV shows, CBS Sunday Morning.  Each week the show covers an eclectic mix of topics from art, music, architecture to pop culture and world events.
Today, one of the segments was about a Miami dentist who makes customized tooth veneers that are not too white but rather just the right color for his patients.
He says that "imperfection is natural" and when your teeth are "too white" (or in his case, veneers) your smile looks artificial.  His greatest joy?
When his patients tell him that their friends and family tell them they look great but they can't seem to pinpoint what's different about them. Proof that the new smile he has created for them looks totally natural…little flaws and discolorations and all.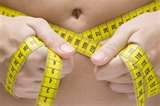 More than 25 years ago I was on a personal quest for physical perfection.  Each day I carefully measured my food intake and charted my exercise (miles of running, hours of weight-lifting).
I was convinced that on a special day when the digits on the scale hit a magic number, and the measuring tape proved diligent effort, and all ten of my fingernails were the exact same length….on that day THEN I would be perfect. (i.e. finally happy)
I finally achieved my goal.  
It was a huge disappointment.  
First off, I couldn't actually "tell" anyone I was perfect, so I had no one to share my success with.  Secondly, after about 3 minutes of realizing I had worked hard and suffered much (no chocolate!) for six months, I was still the mildly depressed, "frightened-by-life" person I had always been. (And, yes I looked amazing in my bikini, but it was now just a big "so what!")
It was a life-changing lesson for me.  I discovered that my happiness did not lie in perfection.  If would take many more years of therapy and workshops to master happiness for that. (see previous blog)
Fortunately, two years later I learned about the ancient art form of Wabi Sabi, and began my slow but steady journey to learning to find and love the beauty in most of my imperfections. I am still striving for improvement in some areas of my life, but it's a relief to no longer be obsessed with misbegotten notions of perfection.
How about you, do you have a self improvement project that is running your life?  Feel free to comment below:
You can leave a comment by clicking here.